Welcome to our
English Bakery in Paphos – Fryday's
Paphos English Bakery – the only British Bakery in Paphos. We are a small family run business based in Coral Bay (near Peyia) offering English bakery products to locals and visitors alike. We cook all of our products on-site, using only the best ingredients, so you can be guaranteed that everything we produce has been home-cooked and is made fresh every day.
We stock all of the regular British Bakery favourites including Meat Pies, Cornish Pasties, Pork Pies, Sausage Rolls and also produce a large variety of cakes & desserts.  These include Eccles Cakes, Millionaire Shortbread and Lemon Meringue Pie. For details of our full menu see our Paphos British Bakery Menu here.
As well as being the only British Bakery in Paphos we are also a traditional English Fish & Chip shop.  For details of our Chip Shop menu see our Paphos Fish & Chip Menu here.
We can be found in Coral Bay, Paphos (next door to the Frog & Toad Pub) – check out our contact page for directions.  We look forward to meeting you soon.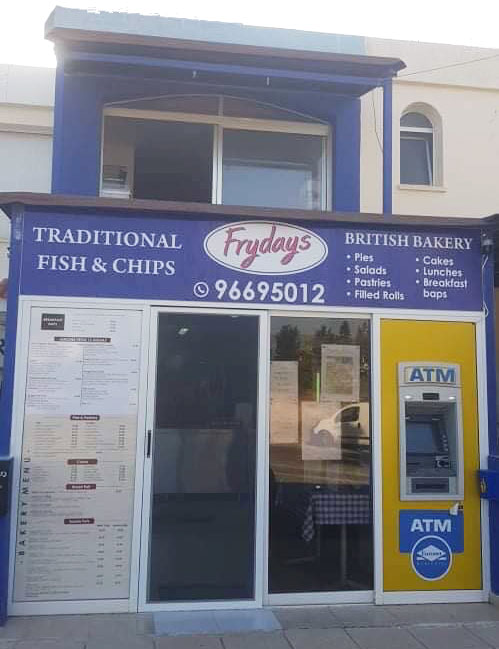 English Bakery
Pies & Pasties
English Bakery in Paphos
Steak Pies, Chicken Pies, Mince Pies, Chicken and Mushroom Pies, Cornish Pasties, Sausage Rolls,Scotch Eggs, Pork Pies, – you name it, we have it.
We also have a large range of freshly made sandwiches.
All of your English bakery favourites here in Coral Bay, Paphos

English Cakes & Desserts available in Paphos!
We have all of your favourites:
Rhubarb Crumble, Lemon Meringue Pie, Millionaire Shortbread, Eccles Cakes, Scones, Bread  Custard Slices, Bakewell Tarts and many more.

Traditional
English Fish & Chips
We have all of your British Chip Shop favourites:
Cod, Haddock, Scampi, Sausages, Pies, Burgers – all cooked fresh to order.
Check out our full menu and be sure to visit us while in Paphos.
The best British Fish & Chips in Paphos!